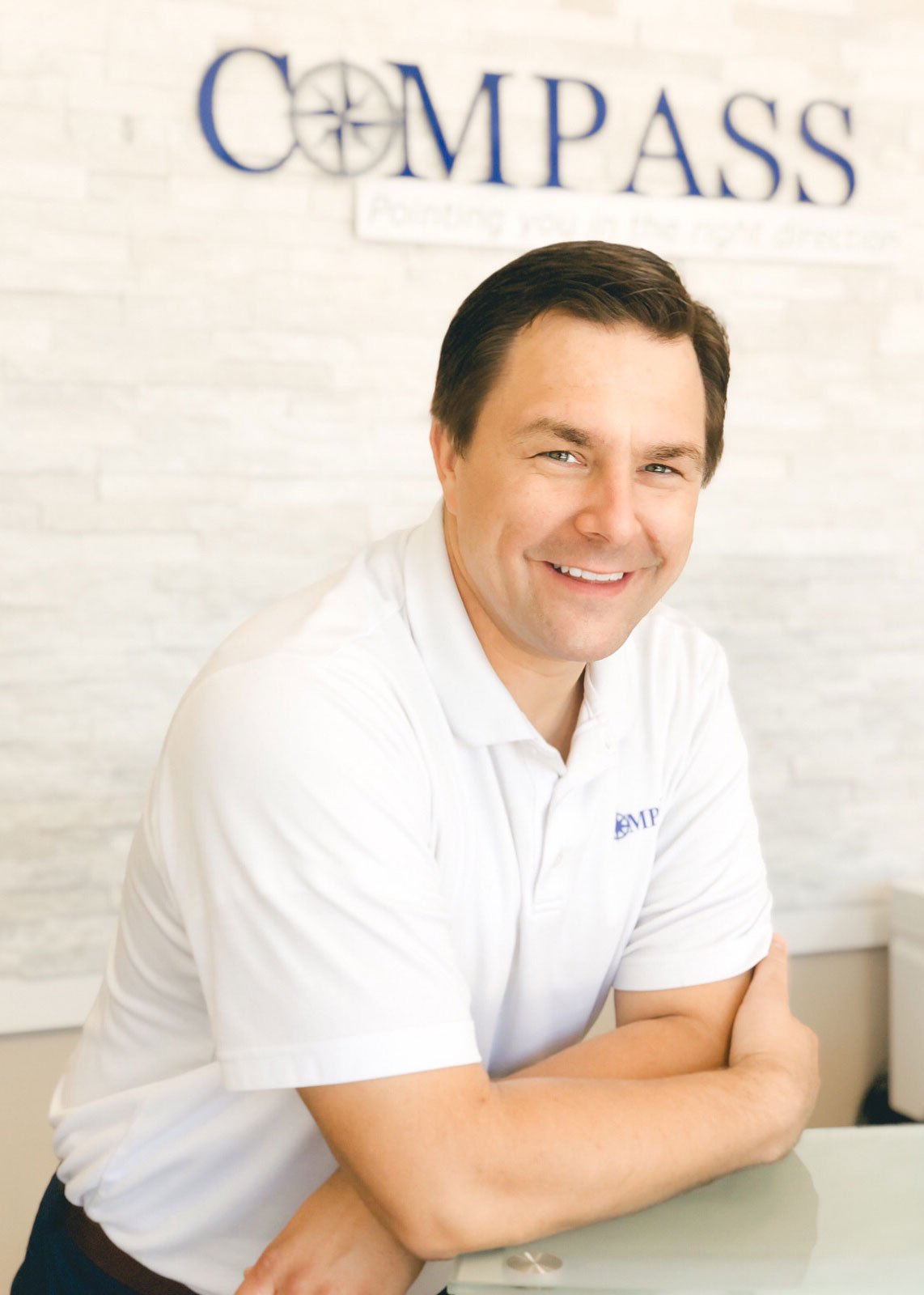 John Gerega
Owner/DPT
Owner, Founder, and CEO, John Gerega graduated from Duquesne University of the Holy Spirit in Pittsburgh, Pennsylvania in 2010 with a Doctorate Degree in Physical Therapy. John accepted a job offer one week after graduation and moved to Georgia where he continues to pursue his passion for helping people with physical therapy.
Throughout his career, John has specialized in outpatient rehabilitation for non-operative and surgical patients. John also oversaw multiple clinics in Georgia where, while still treating, he also helped mentor and develop other physical therapists. John's love for athletics and helping others drives him and motivates him daily.
John and his wife, Stephanie, enjoy traveling, golfing, and spending quality time with family and friends. John and Stephanie opened Compass Physical Therapy in 2019 in an effort to "point" the healthcare journey back in the direction of helping and caring for people. John's heart is, and always will be, one for lifting spirits and providing people with a valuable and personalized healthcare experience, pointing them in the right direction along the way.
Trent Gabriel
PTA
---
Trent began his journey playing professional soccer for Trinidad's national team. When a ruptured patella tendon injury required him to seek treatment, Trent quickly realized that physical therapy was his calling. Trent moved to the states and attended Athens Technical College where he graduated in 2013 at the top of his class with a perfect 4.0 GPA and received a perfect score on his board exam. Since graduating, Trent has worked as a physical therapist assistant and manages and operates a highly successful clinic in the Snellville area. He is currently in school to become a Doctor of Physical Therapy. Trent is a devoted husband and father and enjoys family time, sports, and striving to help Compass reach its full potential.
Hannah Flemming
DPT
---
Hannah graduated from Mercer University in Atlanta, GA in 2016 with a Doctor of Physical Therapy degree. She then spent five years practicing as a physical therapist at an outpatient physical therapy clinic. There she became clinical director and specialized in the growth of their new graduate program for physical therapists and students alike. Hannah is dry needling certified and specializes in orthopedic rehabilitation. She invests in her patients in order for them to reach their maximum potential and has a special place in her heart for the geriatric population. Hannah is married to her high school sweetheart and they have two daughters. They love camping, spending time outdoors, and going for walks together.
Katie Hawn
DPT
---
Katie received a Bachelor of Science degree in Athletic Training from Western Carolina University in 2019, where she was able to practice her skills in various high school and collegiate sports settings. She then received her Doctor of Physical Therapy degree in 2022 from Brenau University. Katie is dry needling certified and dedicated to helping clients improve their physical mobility, reduce pain, and achieve their goals. She works closely with patients to ensure they feel comfortable and confident throughout the treatment process. When Katie is not working, she enjoys the lake, traveling, hiking, and spending time with her husband Chandler and pup Phoebe.
Alaina Lay
DPT
---
Alaina received a Bachelor's in Science Education degree in Exercise and Sports Science from the University of Georgia in 2006 and a Doctor of Physical Therapy degree in 2009 from Columbia University in New York City. She developed her love of orthopedics while in school and has worked in orthopedic clinics in New York City, North Carolina, and Georgia. In 2017, after the birth of her second child, Alaina took time to focus on her family. She returned to the work force in 2020 and joined Compass Physical Therapy as a physical therapist. Outside of work Alaina spends time taking care of her family, visiting local parks, exercising, and occasionally plays her oboe at church.
Chris Lenear
DPT
---
Chris graduated from the University of Georgia after studying engineering and wen ton to research the application of biomaterials in central nervous system injuries. However, he found an eagerness and desire to help those in need and decided to pursue a career in physical therapy. He received his DPT from Brenau University in 2023 and has clinical experience treating patients in the cancer rehab and vestibular rehab realms. He finds joy in providing comprehensive care for every patient at work and he enjoys reading, playing disc golf, and cooking in his spare time.
Glen Bergman
PTA
---
Glen received a Bachelor's degree in dietetics from University of California, Davis, and completed his Master's of Medical Science and dietetic internship at Emory University. He worked in acute care nutrition as a member of Emory University Hospital's Nutrition and Metabolic Support Service for 30 years. During that time, Glen gained an appreciation for the importance of both appropriate nutrition in addition to appropriate movement to improve strength and function after injury or illness. Glen returned to the classroom in 2019 to obtain an Associate's degree as a physical therapist assistant with the goal of helping people regain strength and function in the outpatient setting. Glen enjoys time outdoors, including walking and cycling.
Laura Cotton
PTA
---
Laura studied Human Development and Family Science at the University of Georgia and received her Bachelor of Science in Family and Consumer Sciences in 2021. She continued her education at Athens Technical College, graduating with a physical therapist assistant degree in 2023. Laura loves people and is passionate about helping equip others to live holistically healthy, functional, and pain-free lives. Outside of work, Laura enjoys playing the piano, swimming, water skiing, and cheering on the Dawgs with her husband, Joe.
Dylan Pitts
PTA
---
Dylan received a Bachelor of Science Education in Exercise and Sports Science from the University of Georgia in 2014. He then attended Athens Technical College where he earned a physical therapist assistant degree in 2021. His passion for physical therapy began in high school with his desire to help others and make a positive impact. Dylan uses his extensive knowledge, compassion for others, and positive attitude to help restore patients back to health. In his free time, Dylan enjoys exploring new areas, spending time with family and friends, competing in trivia, telling jokes, and playing board games.
Tyler
Rawlings
PTA
---
Tyler received his bachelor's degree in Exercise Science from Georgia College & State University and then managed a Phase III cardiopulmonary rehabilitation program in the Athens area for five years. Passionate about serving others, Tyler decided to pursue a career as a physical therapist assistant and attended Athens Technical College. Tyler began working at Compass upon graduation and focuses on orthopedics and cardiopulmonary physical therapy. Tyler grew up in Thomasville, GA and is the youngest of five brothers. He loves fishing, hiking, golf, and spending time with family and friends.
Mitch Strand
DPT
---
Mitch graduated from Georgia Southern University in 2018 and went on to pursue his doctorate in physical therapy from Brenau University in 2022. He has clinical experience in both adult and pediatric settings with a wide variety of diagnoses. He his passionate about rehabilitating patients so they can get back to, keep, or improve abilities they need for daily life and function. He especially enjoys helping athletes of all ages and levels return to sport. When Mitch is not working he enjoys traveling, working out, and spending time with his wife, Sara, and their dogs.